Hey Happy Bookworms!
Welcome back to ma' blog 🙂
Today's post is my monthly recap of the book's I've read. It's been pretty good since I've gotten over my reading slump (yay!) So…let's go!
---
Floored by Sara Barnard, Holly Bourne, Tanya Byrne, Non Pratt, Melinda Salisbury, Lisa Williamson, Eleanor Wood
I was really excited when I saw this in my library because it's on my TBR and I normally use libraries to find new books since they rarely have the ones on my TBR but this was there! I'd previously read 3/7 of the authors but heard of others so I was pretty excited!
Ok, so at first I thought this book was just going to be their time in the elevator but it actually spanned 6 years. 6 YEARS!!
It was really interesting seeing all the character development because there was SO much – 6 main characters over 6 years much.
All of the break ups, the friendships, the families (and lack there of) and all of the hilariousness. It was just great seeing a group of people become a group of friends, even Hugo. I know, it's shocking but true.
Lots of different bits and bobs in it too like texts, news articles and stuff.
Which were just really accurate for a group of teenagers/young adults. Which is one thing I really appreciate, like, books hardly ever get the language teens use right but this did a pretty decent job!
Glass sword by Victoria Aveyard
Bro…can I just say that Maven was SO GOOD in this book!
I literally cannot wait for his representation in the next book! His whole character is just so intoxicating, like you want to hate him but you just can't!!
I found the beginning of the book hard, I don't think it was quite as good as red queen + I was in a reading slump (so, I mean, take the first point with a grain of salt) but as soon as they left Tuck it picked up and everything passed Jon was SO GOOD!
*SPOILERS* Like I was tearing up at Shade + Farley's so totally pregnant + Mare's mum and oh my gosh it was all so emotional! 😭 *SPOILERS*
Also: Does anyone agree – this is kinda like Cruel Prince? Like, Maven/Cardan – both intoxicating rulers and Mare/Jude – both stabby girls. I know they are both crazy different stories but anyone else see where I'm coming from?
The rest of us just live here by Patrick Ness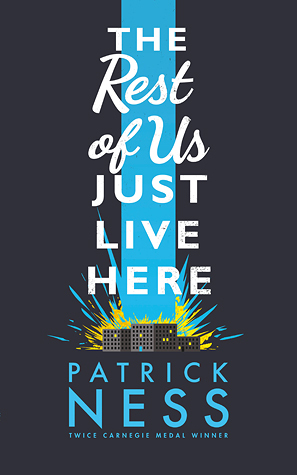 This is my 3rd Patrick Ness book (After the knife of never letting go & release) and after the first 2 fantasies, I thought this would be a reality-funny book and it just wasn't. I like fantasies but I just don't like Patrick Ness fantasies. So I've learnt my lesson – no more Patrick Ness!
Pretty cute characters and relationships, especially Mikey, Mel, and Meredith (such a cute sibling bond!) but I just didn't vibe with the story.

Please don't let this deter you from the book though, loads of people like it, I just don't.
Strange the dreamer by Laini Taylor
OHMYGOSHOHMYGOSHOHMYGOSH!
One of my friends on Goodreads recommended this to me and I just loved it SO MUCH!
Honestly, you just have to read this book:
1) The writhing is BEAUTIFUL and flows so seamlessly!
2) it's so easy to read, it's one of the reasons I beat my reading slump
3) Lazlo and Sarai are so perfect and I cried at the end 😭
4) The world is incredible and so detailed but yet so easy to get into and understand
5) everything is so amazingly planned out
6) It's a great buddy read (I buddy read it) because of all the foreshadowing, so it was so much fun to guess what will happen with someone!
7) STOP READING THIS REVIEW AND READ THE PERFECT BOOK INSTEAD!
I loved it, can't you tell?
Song of sorrow by Melinda Salisbury
I love the Sorrow books' covers so much! 💕
It was a great book…on the whole. I love Melinda's writing, it's so easy to just sit down and read and read but there were just a couple of things that made we go 😑
*SPOILERS*
Like the moment when Sorrow was 'kidnapped' I was so reading for it to be something crazy and it just wasn't.
Also, Arkady tried to kill her and Sorrow's just hear like 'I'll never truly forgive him' or something and it's like YEAH MAYBE BECAUSE HE NEARLY KILLED YOU?!??!
Then Sorrow just threw Mael's documents in the fire without even asking him if he wanted them because she doesn't need to know if he's an actual Ventaxis so that means no one does?! I just think it's so hypocritical, like she's given the choice to know her family but he's not?
Not sure about the ending but I get what Melinda was trying to do with it, I just felt that Sorrow got a little self-absorbed & selfish in the end 🙁
Here I Stand: Stories that speak for freedom by Jackie Kay, Liz Kessler, Sarah Crossan, Bali Rai, Sabrina Mahfouz, Neil Gaiman, Christie Watson, Kevin Brooks

I loved reading this book! It's such a great collection of short stories.
They were the perfect length, not too long (although I would have liked some to be a little longer to explain more) which made binge reading them so easy!
They all made me think, it was an important feature that they never told you what to think, they just gave you a story and left you to draw a conclusion.
The footnotes were great – allowing an insight to the story, although I wish more of the stories had one!
And I loved how there were so many different types of work in there – poems (which I'm not particularly partial to but some people are), comic strips, stories, letters, an interview, Chris Riddell's amazing drawings and more…
They were all just such important stories, highlighting some of the horrors of our world and how they affect people.
---
Thanks for reading!
Read any of these books? Any on your TBR? Will you check any out – have I convinced you? What do you think of my glass sword/cruel prince comparison?
If you didn't catch my collab with Rhi then click here (she's got her's up now)!
Bye!
El xox